Business Advice from Uncle J.P.
I supply your all,
Both great and small,
The old, the young,
The long, the tall.
Who is Uncle J.P.?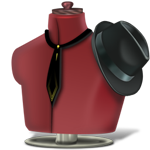 We know that uncle J.P. was a successful business man in the late eighteen hundreds. He began his life as a typical lower middle class kid in America and became through his own cleverness and will a successful business man during some of the hardest times in American history. In his own words, he says, "I was born near Ottawa, Illinois, of Scotch-Irish descent. The family originally came from New England and were typical Yankees. My father whose name I bear, died six months before my birth". Now that is definitely not a good start for any young man, especially in late eighteen hundred America. Theses articles are meant to inspire and give fresh ideas to the aspiring entrepreneur. Uncle J.P. has advise that is more relevant now than ever before. Perhaps you are not selling, "fine tooth combs," standing in a soap box in Oklahoma but if you are a interested in selling to anyone, anywhere, then you have a lot to learn from uncle J.P.
America is again facing some hard times, people everywhere are finding themselves out of a job and facing foreclosures. Uncle J.P. lived through similar times and he was able to thrive. Perhaps he is a man worth giving a small listen to. " The object is to render assistance to the inexperienced, and to offer suggestions to the experienced. No one man knows it all, but what he does know, combined by what is known by others, would make him wise indeed."