How to Do Astral Projection Using the Mental Projection Technique
Astral projection, has been a very popular subject in the New Age movement for a very long time. You can find many books, that purport to teach you how to perform astral projection. Some of these books are modestly complex, and give you a number of different exercises that you can try, in order to achieve separation from your body. Other books that try to teach you how to perform astral projection, can be quite complex, and usually involve a set of energetic exercises, that you must perform over a long period of time.
Whether complex or not, these books are usually not always successful. I believe that the problem lies, in the fact that many people find it very hard to believe, that they can leave their bodies and travel at will. If a person does not believe that there is such a thing as an astral body, I mean really believe deep down in the gut, then it is next to impossible for that person to have a projection experience.
The only way for a person to have a successful astral projection experience through these methods, is to continue these exercises over a long period of time. But this is a long and very tedious method, because it might mean that you could be doing the proposed exercises for a very long time, before you get any kind of result at all. It is even possible, that you will never get a positive astral projection experience, if these exercises are not able to convince you, at a deep level, that these Out of Body experiences are real, and that you can replicate them.
For this reason, I have found that it is much more enjoyable and it is much easier, to attain astral projection experiences by first working on what is referred to as 'mental projection'. Mental projection is very similar, to what is sometimes called remote viewing. What you are actually doing in mental projection, is projecting your mind to another place. This differs from a full blown astral projection, in that you are not projecting your complete astral body, but you are just projecting your mind. In other words when you project somewhere, doing the mental projection technique, you will experience the place you wish to visit, but you will not see yourself in that place, it's sort of like watching a television show, as opposed to participating in a play.
In order to do mental projection, you must be in a very wakeful state, and you can do it anytime during day or night, whenever you find a quiet moment for 15 minutes to half an hour. Mental projection is much easier for the ego to take, and it is therefore a very good way to become successful at astral projection.
In order to do mental projection:
– Find a nice quiet place, where you can be alone for 15 minutes to half an hour. Try to do this exercise when you are not mentally or physically exhausted, because the trick to this exercise is to try to stay awake, and consciously control the direction of your mind. Take a comfortable position on a chair preferably.
– When comfortable and relaxed, take a few deep breaths. These should be nice and even breaths, that allow you to cleanse your mind and relax completely.
– After about 10 nice deep relaxing breaths, close your eyes and visualize a place where you would like to go. It can be anywhere you want, either the adjacent room, or a place that is many miles away. It is important that at the beginning of these exercises, you know the place where you are going, that is you have been there before. As you become better at mental projection, you can pick new places, where you have never been before, it won't matter then if this place is on the other side of the world, or the other side of the universe.
– Now, with your eyes closed, imagine this place as vividly as possible. Try to visualize with every one of your senses, that is don't just try to see the place, but also try to hear the sounds from that place, feel the environment around you, smell the environment, and perhaps even taste the environment if that is at all justified.
– For 15 minutes, try to visualize that place in the most detailed way possible. This can be a very hard thing to do, because the mind has a natural desire to wander, so it is up to you to stay focused on this place where you are trying to project, and to keep bringing your mind back there if it does wander off. After a few minutes, it is also possible that you will start to get a little mentally tired, and you might actually start daydreaming, or even dream a little. If this happens, catch yourself and bring yourself back to a conscious state. The idea is to consciously will your mind to a certain place, and avoid any kind of daydreaming, or wandering by the mind. When you are dreaming or daydreaming, the mind takes off by itself, and it is on autopilot. This is what you want to avoid.
– When you are in this place where you have mentally projected yourself, try to become as aware as possible, of all the things around you. It might be a good idea to have a pen and paper ready, when you come out of your trance, so that you can write down the details of what you saw. While you do want to use your memory to get to that place mentally, when you are there and feel that you are there mentally, I want you to take inventory of the things that you see. If there are certain things that are different from what you remember, write these down when you come out of trance.
– After you have woken, and are looking through your notes, see if there's any way that you can reconcile, some of the new information that you might have discovered through your mental journey. While this might be a difficult thing to do, it can really help your ego awareness, to understand that it has the possibility of being far more flexible in its perceptions.
For example, you might mentally project to a place where you had gone on vacation, and through this endeavor discovered that there was a change, perhaps a new building that you had not seen before. Proving to yourself that this new building is actually real now, will help your ego awareness to understand that mental projection is possible, and that the information that you gather is legitimate.
But don't worry if you can't prove the legitimacy, of some of the data that you acquire through your mental projections. The important thing is to do this exercise on a regular basis, because the act of engaging in it, will allow your body to begin to tune into the possibility of a more flexible perceptive state. Your body's realization, will eventually become your ego's realization, and as a result you will find it far easier to believe that astral projection is real, and quite possible for YOU!
If you do this exercise on a regular basis, you will be incredibly surprised as to how powerful mental projection can be. You'll be able to see, and experience things that are probably quite hard for you to accept right now, especially if you have never had an out of body experience or anything similar. It is quite possible, that you like this exercise so much that you might even forget about the idea of astral projection completely.
Don't be surprised though, if after doing the mental projection exercises for a while, you find yourself having a complete out of body experience. The mental projection exercise, is far more entertaining than the exercises that you will find in most astral projection books, and is by itself a very valid form of projection, that can allow you to eventually go anywhere you want within the known and unknown universe. Thanks to these personal experiences, you will naturally change your beliefs about the possibility of travelling beyond the confines of your body. This change in belief, will naturally allow you to have out of body experiences.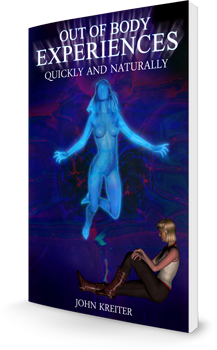 For all those interested in in reading more about how to have Out of Body Experiences quickly and easily, please check out my book. In this book I present a radically new way to leave the physical body and have a complete Out of Body Experience, where it is not just your mind traveling, but your entire ethereal body. This method is fast, fun, and efficient. I also go into detail about:
-The different worlds that you can access in the Out of Body state
-The type of beings that you can encounter
-Ways to deal with and overcome the limitations of the ego self
-How to consciously participate in Astral Travel and Lucid Dreaming
-How to create and solidify an Astral body
-How to develop Energetic Containment so that you can travel anywhere you want safely.

If you do the mental projections that I talk about in this Video, the double body projection that I talk about in my book, will be very easy indeed. It is quite possible that through just the mental projection exercises, which I describe here in this video, you will naturally have a double body projection without any other help at all.
It is indeed the case that mental projection, is one of the best ways to have a bonafide astral projection, because the mental projection exercise, works directly on the key component of all this: your personal beliefs about the possibility of travel without the physical body.