The Art of Transmutation – Questions & Answers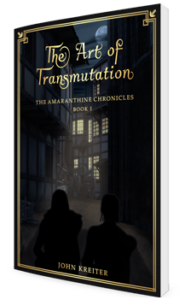 The world is not what you think it is. Many of us have heard that statement before, but what does it mean in practical terms? What if the world is more fluid than we imagine? What if the laws governing our reality are different from those we've been taught to believe? And what if everything we've been told about the world is a kind of manipulation designed to make us think and behave in certain ways, even when it contradicts our own inner feelings?
Knowing these truths, wouldn't you try with every ounce of your being to change your life using this new strategy?
This is a book written in story format and it is my hope that through this writing style I am able to impart more nuanced a personable information into the great intricacies of inner alchemy.
In reading the tales of Janos and the shadowed man, you will most likely have some questions about the nature of their journey. I have set this space aside to answer those questions that you may have.
And have no doubt, this book is full of sophisticated and for the most part, hitherto secret knowledge, that I hope will transport you into a new world of personal fulfillment and discovery as you follow the apprenticeship of a budding inner alchemist.
Disclaimer
Please note that I reserve the right to not answer any questions that I feel are not pertinent or that violate common standards for a public page. Also, as this is a public page do not post any information that you do not want made public. While I do try to answer questions as quickly as I am able, other commitments can get in the way so thank you for your patience.The information contained on this website is solely for educational and entertainment purposes on the given subjects. It should not be considered medical advice nor financial advice and should NOT be used as a substitute for medical advice or financial advice by trained professionals. The author makes no warranty or assumes any responsibility for the accuracy or completeness of the information given. Moreover, the author accepts no responsibility for the decisions made by the reader. Before you engage in any of the practices mentioned on this site or in my books, please contact a qualified medical professional, especially if you are at risk of aneurysms, or if you have issues with your heart. Thank You.