The Way of the Death Defier Q&A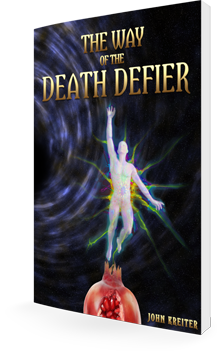 We are infinitely complex beings, and biological death is not the end of us.
Within the bounds of our physical life, there is an incredibly complex interplay of energetic conglomerations that may weave themselves across many dimensions. After biological life is over, this interplay of energetic conglomerations (that is us) continues its journey across the Dark Sea as it makes its way to the Black Sun.
Our experience as biological beings is full of intricacy and after biological death, the intricacy of our existence becomes unbound. Trying to describe the unbound nature of the after-death experience is not an easy task, and trying to understand it as a practicing projectionist yourself can be a very difficult and intimidating challenge.
As you begin to develop your own abilities to perceive into the dimensions beyond biology, it is quite natural that you will have many questions not only about what you find beyond the veil of objectivity, but also about the many challenges that you might face as you cross the rooms of the projectionist and strive for immortality yourself.
In this questions and answers page, I will try to answer all the questions that you may have about this last book in the Magnum Opus course book trilogy, the after-death experience, and about the nature of the quest of the inner alchemist to attain complete immortality.
Disclaimer
Please note that I reserve the right to not answer any questions that I feel are not pertinent or that violate common standards for a public page. Also, as this is a public page do not post any information that you do not want made public. While I do try to answer questions as quickly as I am able, other commitments can get in the way so thank you for your patience.The information contained on this Website is solely for educational and entertainment purposes on the given subjects. It should not be considered medical advice nor financial advice and should NOT be used as a substitute for medical advice or financial advice by trained professionals. The author makes no warranty or assumes any responsibility for the accuracy or completeness of the information given. Moreover, the author accepts no responsibility for the decisions made by the reader. Before you engage in any of the practices mentioned on this site or in my books, please contact a qualified medical professional, especially if you are at risk of aneurysms, or if you have issues with your heart. Thank You.