The Way of the Projectionist Q&A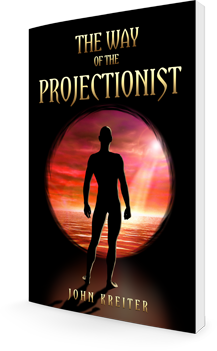 Many of us already know quite clearly that this current world is a trap, at least it is for all those that are bound to the current ideas of what is and is not possible for a human being.
In the course book, The Way of the Projectionist, this three dimensional cage without walls is clearly described and you are given a methodological outline for escaping the intense gravity of this world, through the power to be gained after you wake up to the energetic fact that you are a ghost in a machine, that has the possibility of travelling across the infinite cosmos.
The way of the projectionist though is a complex science, one that takes time, dedication, and a great deal of specific knowledge. As you engage in this projectionist process yourself, you may have a number of unanswered questions, or there may be intricacies that you will need some clarification on. It is my hope that this 'Questions and Answers' page will be able to answer some of those questions and the scope of some of those intricacies.
Please feel free to post your questions here and I will do my best to answer these as soon as possible.
Disclaimer
Please note that I reserve the right to not answer any questions that I feel are not pertinent or that violate common standards for a public page. Also, as this is a public page do not post any information that you do not want made public. While I do try to answer questions as quickly as I am able, other commitments can get in the way so thank you for your patience.The information contained on this Website is solely for educational and entertainment purposes on the given subjects. It should not be considered medical advice nor financial advice and should NOT be used as a substitute for medical advice or financial advice by trained professionals. The author makes no warranty or assumes any responsibility for the accuracy or completeness of the information given. Moreover, the author accepts no responsibility for the decisions made by the reader. Before you engage in any of the practices mentioned on this site or in my books, please contact a qualified medical professional, especially if you are at risk of aneurysms, or if you have issues with your heart. Thank You.